graphic production, technical publications and marketing materials. Have designed, developed and executed, visual communication media such as corporate identity programs, logos, brochures, package designs, proposals and PowerPoint presentations. Projects have included the creation of advertising, collateral, direct mail, electrical schematics, functional diagrams, three-dimensional art, and technical documentation that included application notes, data sheets, data books, newsletters and brochures. Photo experience, design and printing knowledge were essential to these positions as is the ability to coordinate production with outside vendors. Experience in web design, computer and software training, computer trouble shooting. Ability to work effectively with personnel from all levels of the organization in a fast-paced, deadline driven environment both independently and in a team environment.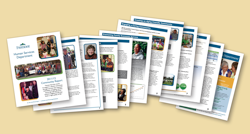 Extensive experience in...
About Me
I enjoy the challenges of working on new projects. Helping people relay their ideas and messages in a simple and clear way.
Skilled with...
- Adobe InDesign
- Adobe Photoshop
- Adobe Illustrator
- Microsoft Office
Contact Information
Daniel Mark Schwartz
408-306-5334